ArteEast appeals to you to help us raise funds to realize the work of a young visionary filmmaker's project. Egyptian filmmaker Aida ElKashef has been accepted into the prestigious five-week Summer Documentary Lab (https://uniondocs.org/summer-documentary-lab/) program at UnionDocs in NYC  to work on developing her feature-length film "The Day I Ate The Fish," about women in the Al-Qanater prison in Cairo, Egypt, and who have murdered their husbands. Aida has been working on this film for a number years, and needs our support to undertake a 2 month push forward of the film editing, and further pitch the film to important producers and distributors in NYC. To support Aida, we need to help her raise $5000. These costs will contribute to the post production costs of the film based on the developments made through the residency, as well as support a public program in association with ArteEast to introduce Aida's work to audiences and potential supporters in NYC.
The Day I Ate the Fish is a documentary about married women who like any other Egyptian brides, started their lives with hopeful dreams of a good future, however their lives did not turn out as planned, those women are now serving a life sentence in prison for killing their husbands.
Through the film, we the filmmakers, launch an expanded investigation of a collective case of women murdering their husbands, as variant as they are, the cases reflect a common narrative of human suffering and ethical dilemmas, which pushes us to question basic notions of human interactions and justice within our state apparatus.
"Crime, what is it? Who decides it? Who decides who's 'the criminal' and who's not?" – a voice narrates in the film.
An abusive husband is brutally murdered by his wife. A court sentences the wife to death. We ask ourselves, what is violence? And who decides what is violent and what is not? Where does the crime stop and when does the punishment begin? When does self defense spill into cruelty? Is belated self defense a crime? What is it that has driven these women to the radical finality of murder? A survival instinct triggered? Or something darker?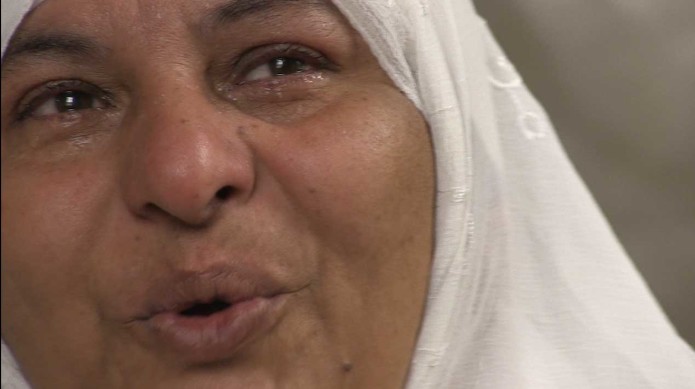 "I was never much of a reader. My father would constantly urge me to read, proclaiming: "Those who don't at least pick up the newspaper every morning are ignorant" – he said. In trying to keep the peace at home, I decided to read the newspaper with my father every morning. I always found myself drawn to the crime section. The more I read of it, the more I found myself fascinated with stories of women who had murdered their husbands. Eventually, they became all I wanted to read. These women were always represented as cold blooded murderers, their tales of murder amplified by the provoking detail of how they killed their husbands, those who sliced their victims or dissolved them in acid, and so on. I could count on the newspapers to bring me at least one new story a day, and one always seemed more fascinating and more hateful than the previous one. I, too, always thought of these women as cold-blooded murderers, probably because this is the way the society needed me to think and function. When I grew up and went to film school I found myself still attached to these women and their stories, consistently reading the daily murder episode.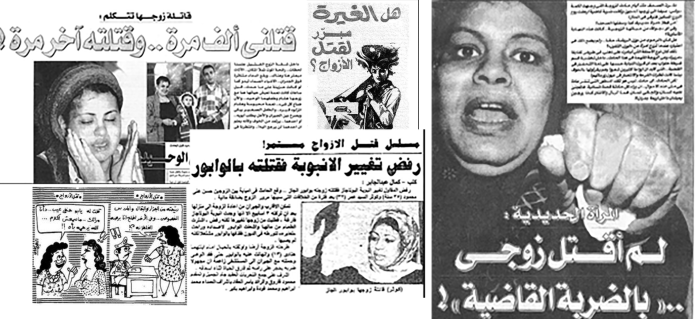 In 2012 we faced an epidemic of mass sexual assault in Tahrir Square. We started a civilian initiative to intervene and try and save women from the clutches of these assaults. And at the center of the initiative was a question that was never resolved: after saving the girl, do we hand the attackers to the police? Or do we make an example of them: beat them, shame them? In the end, we couldn't do either. We could only try and save the women.
I was angry. We all felt helpless. By sidelining women's issues at the start of the revolution, by trying to uphold a media image of Tahrir as a pure and equitable space, we removed our rights from the fight.
The reactions of some of our male progressive friends and of fellow activists made me realize that violence against women is not limited to the street. It can happen within closed circles. It can be met with silence, even by those you trust the most. Some of the most horrific stories happen at home.
I returned to a subject I was fascinated by when younger: women who killed their husbands. Women who took the ultimate step, made the decision from which there's no return.
What is it that pushes some women to the edge? And does counter-violence always spur on more violence? Where does self-defense fit into this equation? They are angry, they must be: but are they cured, now, of their anger?
I don't have answers to these questions, but I know we need to be asking them. Even if people don't want to listen. So I'm hoping this film will do that and that maybe I, and other women might be able to resolve our anger through it."
– Aida ElKashef
Aida ElKashef is an independent film director and producer based in Cairo. She is the cofounder and Executive Director of Ganoub Film for production and distribution. As a director, her first short film, Rhapsody in Autumn, her graduation project from her alma mater the High Cinema Institute in Cairo, received the Dubai Muhr Silver Award. The films also received several other international awards. She has since then directed and produced A Tin Tale, a short fiction based on a true story of a young Egyptian sex-worker,that was premiered in the Dubai Film festival in 2011. She has also worked on several other productions for different directors as "Journalism Passage" by Basel Ramsis. ElKashef has been active in several political campaigns during the Egyptian revolution, including Operation Anti-Sexual Harassment/Assault and No Military Trials of Civilians. She is also a co-founder of the Cairo-based, independent media collective Mosireen.