The Arab Film Fest Collab virtual film festival runs Dec 3-13!
ArteEast, the Arab American National Museum (AANM), Arab Film and Media Institute (AFMI), and Mizna collectively present the Arab Film Fest Collab, December 3–13, 2020.
With programs featuring films, panel discussions and performances from Southwest Asia and North Africa (SWANA), the AFFC highlights Arab, Afro-Arab and Black SWANA voices, capturing the complexity of the Arabic speaking world and its diverse narratives. Screening the work of filmmakers from countries including Lebanon, Palestine, Saudi Arabia, Yemen, Egypt, Sudan, Algeria, and Morocco.
OPENING NIGHT: BETWEEN HEAVEN AND EARTH
Still from Between Heaven and Earth (Najwa Najjar, 2019)
The Arab Film Fest Collab will open with Najwa Najjar's much anticipated Between Heaven and Earth. The screening will be followed by a discussion with the filmmaker.
Inspired by true events, Najjar's film focuses on Salma and Tamer who live in Occupied Palestine and have decided to divorce after five years of marriage. For the first time, Tamer is given a three-day permit to cross the Israeli checkpoint to file for divorce in the courts of Nazareth. However, things do not go as planned when the court's clerk refuses to process the divorce after he confronts them with a secret about Tamer's father's past––an affair with an
Iraqi Jewish woman in the 1950s. With only 72 hours to find this woman and finalize the divorce documents before Tamer's permit expires, the couple sets out on a journey that takes them between the present and the past.
Join us opening night for a special welcome from Congresswoman Rashida Tlaib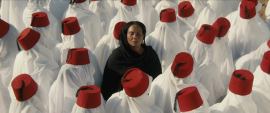 You Will Die at Twenty | Sudan
by Amjad Abu Alala
When Muzamil was born, a prophecy by the holy man of the village predicts that he will die when he is twenty years old. Muzamil's father cannot stand to see his son's doom and travels away from home. He leaves Sakina to be an overprotective single mother to Muzamil. One day, Muzamil turns nineteen…
1982 | Lebanon
by Oualid Mouaness
At a private school on the outskirts of Beirut during the 1982 invasion of Lebanon, 11-year-old Wissam tries to tell a classmate that he likes her, while his teachers, on different sides of the political divide, try to mask their fears. As they try to hide their growing concerns for the sake of the students, they conceal the fractures in their relationship and the tension caused by their personal politics.
The Unknown Saint | Morocco
by Alaa Eddine Aljem
Moments before his capture by police, a thief digs a grave to hide a bag of money. Released from prison years later, he returns to reclaim his bag, and finds a shrine built for an unknown saint directly on top of his loot. And as if the shrine wasn't enough, a new village has emerged around the mysterious grave, and this means that the former prisoner must concoct a plan if he's to retrieve his cash.
Monuments & Flowers
Curated by Regine Basha
Featuring: Yto Barrada, Maha Maamoun, Lara Baladi, Malak Helmy and Marianne Fahmy
Monuments & Flowers brings together a selection of seminal video work culled from the archives of ArteEast with the work of contemporary voices.
Monuments & Flowers is presented as part of the ArteEast legacy program Unpacking the ArteArchive,  preserving and presenting over 15 years of film and video programming by ArteEast.
Image still: Hand-Me-Downs by Yto Barrada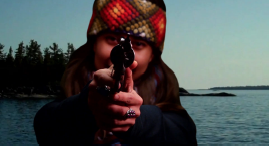 INAATE/SE/ [it shines a certain way. to a
certain place/it flies. falls./] | US
by Adam Khalil and Zack Khalil
Adam Khalil and Zack Khalil's debut film reimagines an Anishinaabe story, the Seven Fires Prophecy, which both predates and predicts first contact with Europeans. A kaleidoscopic experience blending documentary, narrative, and experimental forms, INAATE/SE/ explores how the prophecy resonates through the generations in their indigenous community on the Michigan/Canadian border. With acute geographic specificity and grand historical scope, the film fixes its lens between the sacred and the profane to pry open the construction of contemporary indigenous identity.
On December 11, 12:30 PM EST, AFFC will partner with the Hagop Kevorkian Center for Near Eastern Studies at New York University (NYU) to present Excavating Alternative Histories, a panel featuring filmmakers Naeem Mohaiemen, Adam Khalil, and Zack Khalil in conversation with the Director of the Center for Media, Culture and History at NYU, Faye Ginsburg.
This program is part of Alternative Archives: Discourses and Disruptions, an ongoing series of webinars that explore innovative artistic processes and productions from the SWANA region, tackling critical questions around storytelling and archiving in a rapidly evolving digital world. Organized by ArteEast in partnership with the Arab American National Museum and NYU's Kevorkian Center.